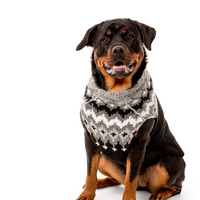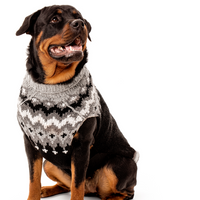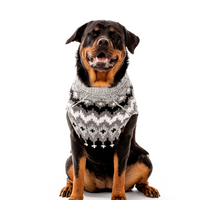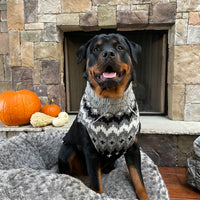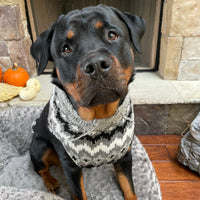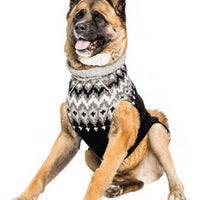 This warm, handmade, 100% sheep wool sweater is sure to keep your pup warm during chilly days! Even if you live in an area that never gets too chilly or snowy, this sweater will serve as the perfect Instagram moment or holiday card accessory. There is nothing that will make you happier than seeing your dog warm, happy, comfortable and adorable as ever in this ski sweater. 
The dog pictured is a Rottweiler weighing 95lbs, wearing a size XXL. 
Product Information: 
- It is knit by Artisan Knitters in the Northern Highlands of South America and are made following Fair Trade Guideline.
- Chilly Dog Wool and Alpaca dog sweaters are the warmest because the natural fibers have greater bulk therefor preventing any air pockets.
- Wool is a renewable resource and is water repellent.
- Chilly Dog sweaters fit barrel chested dogs for example, Pitt Bulls, Boxers and Pugs beautifully because of the give in the knit.
Treat your dog to the best!
SIZE CHART :
SAFETY NOTE:
Do not leave your pet unattended with this product. We are NOT responsible for any damages/illnesses to products or pet that may happen to your pet or product due to a pet chewing/eating/scratching/getting injured by the product while not attended. We recommend that you remove clothing items durning rough play time, sleeping, or when leaving your pup home alone. Always use your best judgment when giving your pet any form of clothing, toys or other products to keep your pet safe and healthy!