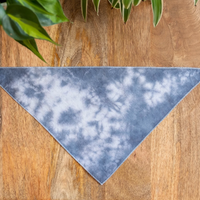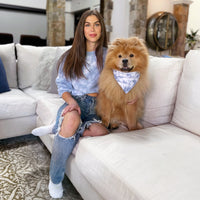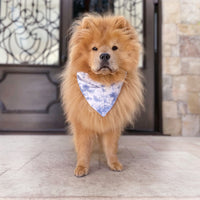 This trendy, comfortable, and blue tie dye  print dog bandana matches perfectly with the blue tie dye crewneck so you and your furry friend can coordinate in style! 
Each item is treated with Color Stay dye for a more vibrant color that lasts longer.

SIZING: 
Small: up to 11 inches
Medium: 12-16 inches
Large: 17-21 inches
XL: 22-28 inches

SAFETY NOTE:
Do not leave your pet unattended with this product. We are NOT responsible for any damages/illnesses to products or pet that may happen to your pet or product due to a pet chewing/eating/scratching/getting injured by the product while not attended. We recommend that you remove clothing items durning rough play time, sleeping, or when leaving your pup home alone. Always use your best judgment when giving your pet any form of clothing, toys or other products to keep your pet safe and healthy!