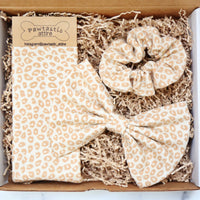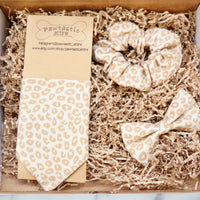 Treat yourself or a loved one to this gift box! Whether it's a gift for the holidays, a birthday gift or just a gift to show someone you're thinking of them, this box makes the perfect impact on a pup and parent's life. Cheetah print never goes out of style and can be worn year round by both you and your pup. 
They're designed to easily slide through the top casing so no need to worry about tying or it coming loose. To find the perfect size be mindful that the bandana should cover 1/2 to 3/4 around the collar. If your furbaby has a lot of fur it may be a good idea to size up.
Each box includes: a dog bandana, a bow tie, and a matching scrunchie. 
** Care Instructions: Please hand wash with cold water. Avoid ironing directly on the name personalization. If needed, iron from back of bandana.
SAFETY NOTE:

Do not leave your pet unattended with this product. We are NOT responsible for any damages/illnesses to products or pet that may happen to your pet or product due to a pet chewing/eating/scratching/getting injured by the product while not attended. We recommend that you remove clothing items durning rough play time, sleeping, or when leaving your pup home alone. Always use your best judgment when giving your pet any form of clothing, toys or other products to keep your pet safe and healthy!