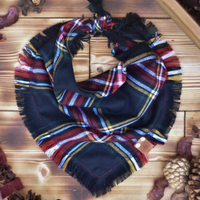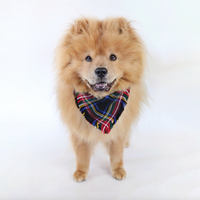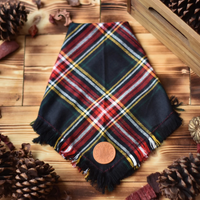 The perfect dark plaid bandana, you didn't know you needed but will continue to obsess over This bandana will compliment your dog's personality and be his or her new favorite accessory because of the comfortable, thick, flannel material. 
This bandana ONLY comes in a size extra large 24-30 inches, which is great for a Lab, Golden Retriever, German Shepherd, or Great Dane, Rottweiler sized dog. 
The Extra Large is intended to fit a wide range of large breed dogs. For dogs on the smaller side of the extra large range, you can tie the bandana. For dogs on the higher end of the size range, we have included a snap to give more room! 
SAFETY NOTE:
Do not leave your pet unattended with this product. We are NOT responsible for any damages/illnesses to products or pet that may happen to your pet or product due to a pet chewing/eating/scratching/getting injured by the product while not attended. We recommend that you remove clothing items durning rough play time, sleeping, or when leaving your pup home alone. Always use your best judgment when giving your pet any form of clothing, toys or other products to keep your pet safe and healthy!