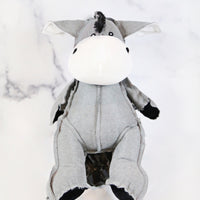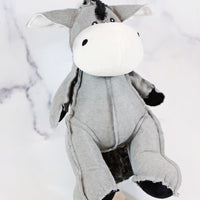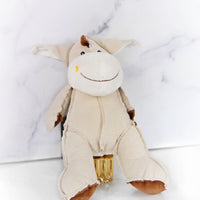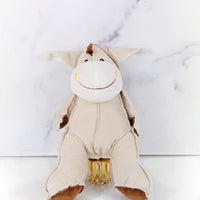 Stylish toy with squeaker and a durable texture for your dog to enjoy. Great snuggle companion! This toy is great for dogs of all ages. 
Why we love it: 
Modern design from Nandog Florida 
Unique design
Soft and cuddly plush toy
Simple and clean look
Squeaker inside
Sizing: 10″x 5″
For destructive dogs:
Play and put away once playtime is over. This will allow the toy to last longer, make the toy higher value for the dog, and provide a novelty to the toy every time you take it out for play, which keeps your dog interested longer!  
SAFETY NOTE:

Do not leave your pet unattended with this product. We are NOT responsible for any damages/illnesses to products or pet that may happen to your pet or product due to a pet chewing/eating/scratching/getting injured by the product while not attended. We recommend that you remove clothing items durning rough play time, sleeping, or when leaving your pup home alone. Always use your best judgment when giving your pet any form of clothing, toys or other products to keep your pet safe and healthy!
Pets should be supervised while playing with this toy and please remove all labels before giving it to your pet. This is not a tough toy so is not meant to be chewed on while unsupervised.