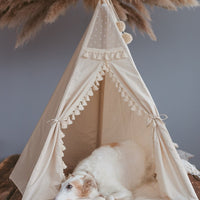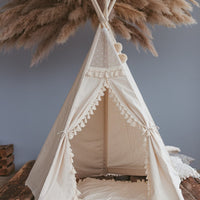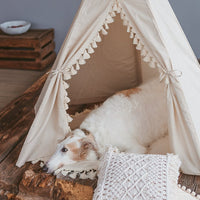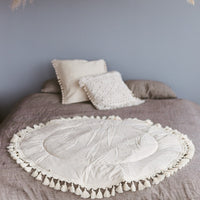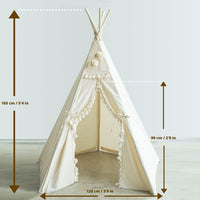 Are you looking for a fancy extra large dog bed for your furry one? If yes, then you are at the right place. Featuring our very own original design "boho" teepee bed. Originally designed for kids, these teepees can also be used for large dogs. This extra-large dog bed is adorned with beautiful tassels and pompoms which give it a playful and soothing vibe.

The extra large teepee bed for dogs is stable, due to the durable framework of horizontal and vertical poles. This boho teepee is colored in a mild off-white and beige theme. Complete the teepee look by adding a padded play mat with tassel borders or pompom border.
Package includes:
● Unbleached canvas tent (BEIGE Colour) and tassel mat 
● Smooth round wooden vertical and horizontal supporting poles
● Matching rope with a big pompom at each end
● Assembly instructions

XL TEEPEE SIZE:
Poles height 5'9" / 180cm.
Teepee height 5'4" / 165cm.
Entrance height 2'9" / 90cm.
Inside width (diameter) 3'9" / 120cm.
EVOLVED PRODUCTS
At Minicamp, we strive to manufacture the best products for our clients. All of our products go through rigorous testing and quality checks. The boho teepee was originally lacking a rigid support structure. Due to which the teepee could not last longer. The same drawback was addressed and our boho teepee now comes with a strong support framework to ensure that our teepees are strong and sturdy.
FINEST QUALITY MATERIALS
Our teepees are made with the highest quality of materials. Teepee walls are sewn from 100% cotton, which is OEKO-TEX® standard certified to be free from harmful chemicals. Poles are made from eco-friendly aspen wood for ultimate look and quality.

WASHABLE AND DURABLE CANVAS
The teepee is made with washable materials. The canvas can be hand washed at 30°C / 86F

Teepee color: beige, off white (not snow white). 


MINICAMP uses only the premium quality textiles in all of their products that provide not only the comfort but also luxury. Driven by innovative designs, their products are a signature blend of minimalistic prints, trendy colors, and ultra-soft fabrics.