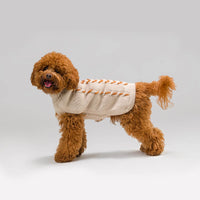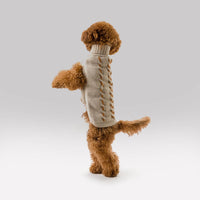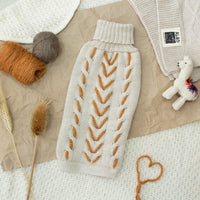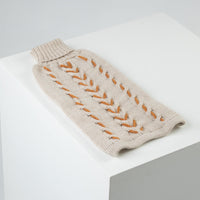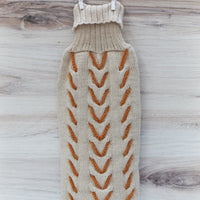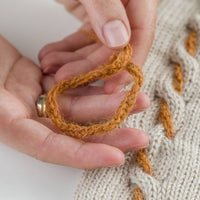 In a pet world full of trends, be a classic. This soft, warm, crocheted sweater will make your pup fashionable and comfortable! The ultra soft, beautifully designed, hypoallergenic sweater is the perfect choice for those who want the best style and quality for their dog!
Handcrafted from alpaca fiber blends
Soft and warm to the touch
Not itchy & hypoallergenic
Leash opening
Crocheted detail
Churro is a Poodle wearing size Small
About sizing (Sizing Guide in photo gallery)
In order to calculate your pooch's size, you'll need to measure your dog's length from the base of the neck to the base of their tail, which serves as the primary measurement in our clothing. The neck, as well as the breed guide provided in the sizing chart, will help ensure you select the correct size for your dog in the particular product style you desire.
* Shadings and variations are common in handmade products.
Why Alpaca?
Alpaca is one of the world's most luxurious fabrics, "it" is a jewel among all other synthetic fibers and harsh materials found in our everyday lives. The world of high fashion recognizes alpaca for its natural attributes:
Natural thermostat: Alpaca fiber traps body heat in cooler temperatures and releases it in the warmer ones.
Pilling: The silky fiber and long hairs of alpaca wool allow less pilling compared to other fibers.
Animal-friendly: Alpaca is not harmed during the shearing process.
Softness (hand): Alpaca fiber is silky, soft, supple, and smooth to the touch. It is prized for its unique silky feel and luxurious handle. Alpaca is as soft as cashmere and warmer and stronger than lambs' wool.
Elasticity and Resistance: Alpaca fiber is unusually strong, resilient, and has very good elasticity, making it possible to compare it with wool and other animal fibers.
Lanolin-free: Lanolin is grease found in most sheep's wool that protects the fiber, imparts a "unique" odor, and is the cause of wool allergies. "Alpaca" fiber does not itch, and it is hypoallergenic.
Does not preserve humidity.
About Alqo Wasi
Alqo Wasi is devoted to creating timeless and authentic pieces made of luxurious Alpaca fiber blends. Alpaca fiber is one of the most luxurious fibers in the world. It's lightweight, incredibly warm and seven times stronger than Merino wool. Soft to the touch, Alpaca fiber is naturally hypoallergenic and lanolin free and does not absorb or retain moisture.
SIZE CHART :
SAFETY NOTE:

Do not leave your pet unattended with this product. We are NOT responsible for any damages/illnesses to products or pet that may happen to your pet or product due to a pet chewing/eating/scratching/getting injured by the product while not attended. We recommend that you remove clothing items durning rough play time, sleeping, or when leaving your pup home alone. Always use your best judgment when giving your pet any form of clothing, toys or other products to keep your pet safe and healthy!