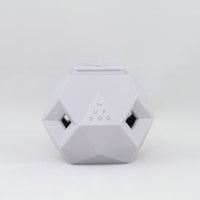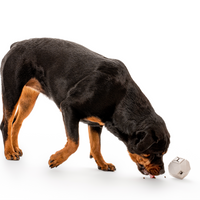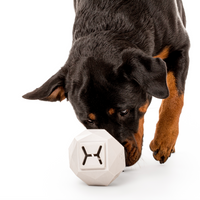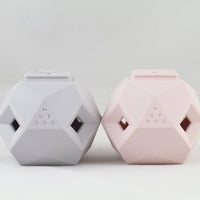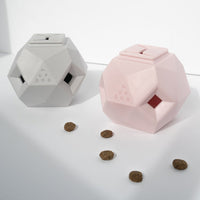 "The Odin" Modern Treat Toy
A treat dispensing modern dog toy with a minimalist, modular design. Put treats into the flaps and let your dog toss and roll The Odin to get treats out. Attach 2 or more The Odin toys to keep the toy fresh and change the way your dog plays with the toy.

Color: Light Grey 
How it works :
- Place in treats or kibble from the top and bottom flaps, and then as your dog plays, the holes on the sides dispense the treats gradually.
- Rubber-like material keeps hardwood floors and fragile furniture from getting scratched, while staying durable to doggy jaws.
- This is NOT a chew toy. Supervise your dog while playing.

Tips :
- Start with small treats or kibble that fall out easily so your dog is quickly rewarded for playing.
- Show them how it works by rolling it around and having treats fall out in front of them.
- As they get better at it, upgrade to larger treats to increase difficulty.
- Take it away if they start gnawing or ripping at the toy and show them again to just roll the toy.
- Attach 2 or more toys together to change the way it rolls and bounces.

Specs :
- 3.6in x 3.3in x 3.8in
- Made of TPR (non-toxic, BPA free, pthalate free, latex free)
- Made in China

Care :
Rinse with soapy water or use top rack of dish washer
SAFETY NOTE:
Do not leave your pet unattended with this product. We are NOT responsible for any damages/illnesses to products or pet that may happen to your pet or product due to a pet chewing/eating/scratching/getting injured by the product while not attended. We recommend that you remove clothing items durning rough play time, sleeping, or when leaving your pup home alone. Always use your best judgment when giving your pet any form of clothing, toys or other products to keep your pet safe and healthy!