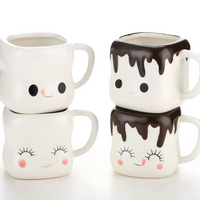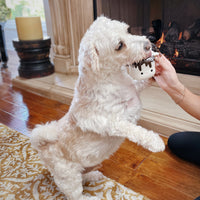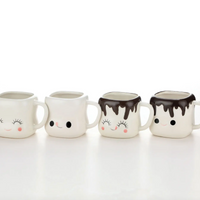 The perfect pup cup doesn't exis-. Wait it does! This set of four pup cups is perfect for any dog. It is a great multi purpose set that can be used for your pups, your kids, or anyone who loves hot chocolate or espresso! 
Your dog deserves the best and most adorable mug to enjoy a puppuccino in. Not only is this cup cute, it is also much better for the environment than reusing plastic or paper cups! Be eco friendly and buy a cup for your pup. 
Details: 
Marshmallow Shaped Hot Chocolate Mugs Couple Matching Mugs 4 Mugs Per Set.
Dimensions: 2.75" x 2.75"x 2.75"
Microwave safe, Handwash only
This is a 4 piece marshmallow shaped ceramic hot chocolate mugs set. They are great presents for dogs, parents, kids, mom, dad, grandma, grandpa, son, daughter, friend, coworker for every holiday.