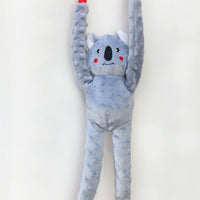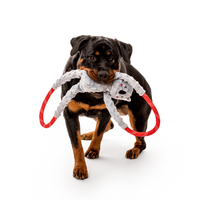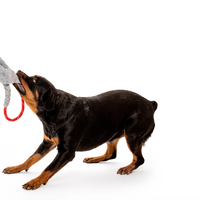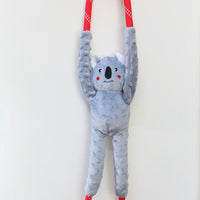 Tug of war just got a lot cuter, playful and more festive with the ZippyPaws Koala RopeTugz® toy! Featuring the same durable rope used in Climbers leashes looped through its entire body, this extra-tough rope toy can withstand hours of tugging and play. Not for heavy chewing.
RopeTugz® uses heavy duty climbing rope, has a 1 round squeaker inside and is stuffed. It measures at 28 x 5 x 3in. 
Tip to keep this toy alive longer if your dog tends to destroy everything: 
Play and put the toy away once playtime is over. This will allow the toy to last longer, make the toy higher value for the dog, and provide a novelty to the toy every time you take it out for play, which keeps your dog interested longer!  
SAFETY NOTE:

Do not leave your pet unattended with this product. We are NOT responsible for any damages/illnesses to products or pet that may happen to your pet or product due to a pet chewing/eating/scratching/getting injured by the product while not attended. We recommend that you remove clothing items durning rough play time, sleeping, or when leaving your pup home alone. Always use your best judgment when giving your pet any form of clothing, toys or other products to keep your pet safe and healthy!
Pets should be supervised while playing with this toy and please remove all labels before giving it to your pet. This is not a tough toy so is not meant to be chewed on while unsupervised.