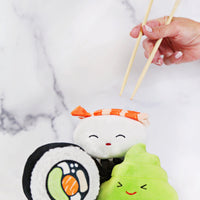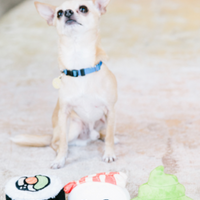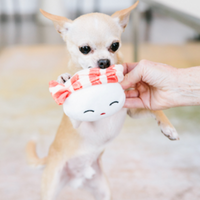 Our sushi set includes a shrimp sashimi, wasabi, and a piece of a cut roll. This toy is perfect for small pups or big pups who enjoy the littler things in life! These toys also make for the perfect photo op to share on social media.
Each toy includes a squeaker so your pup can enjoy hours of playing. The three sushi toys include one sushi roll, one shrimp sushi, and one wasabi. Have fun tossing all three toys to your little furry buddy and watch as he or she chases after them! This trendy and fun dog toy set is the perfect gift for anyone with a pup.
Once your dog is done playing, simply put the toys back in a box or container and get ready for the next day of play time. Warning: Watch dogs with any toy to ensure that they are playing safely, as toys are not indestructible. 
Dimensions: 4" W x 3.75" H x 1.75" D