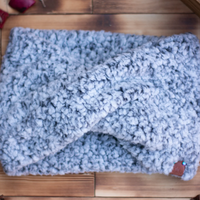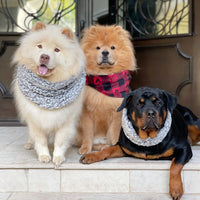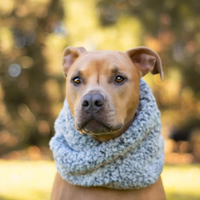 Winter Grey Infinity Scarf
Warm for winter! Your pup will be cozy, chic and ready for any adventure in this soft, warm and extremely comfortable infinity scarf. 
This infinity scarf is a medium weight, 100% sherpa faux fur fabric. My new infinity scarf line is the SOFTEST line of prints! It fits pretty true to size but do not order too small because you don't want the infinity scarf to be too tight on your pet.
SIZING

RECOMMENDED NECK SIZES:

Small: Up to 13 inches- great for cats, or a tea cup breed sized dog
Medium: 14-18 inches- great for a Corgi, French bulldog, Mini aussie or Spaniel sized dog
Large: 19-23 inches- great for a Pitbull, Husky, Australian Shepherd or Boxer sized dog
Extra Large: 24-28 inches- great for a Lab, golden retriever, German Shepherd, or Great Dane sized dog

INFINITY SCARF SIZING (This is the length of the bandana NOT your pups neck!):

Small: 15 inches long circumference
Medium: 20 inches long circumference
Large: 25 inches long circumference
Extra Large: 30 inches long circumference

TIPS FOR MEASURING YOUR PUPS NECK:

Infinity Scarves should hang loosely around base of neck, they shouldn't be too tight. Always order a size larger if you aren't sure about the best size for your pup! You should need around 2-3 inches room to slip an infinity scarf over your pups head.
SAFETY NOTE:
Do not leave your pet unattended with this product. We are NOT responsible for any damages/illnesses to products or pet that may happen to your pet or product due to a pet chewing/eating/scratching/getting injured by the product while not attended. We recommend that you remove clothing items durning rough play time, sleeping, or when leaving your pup home alone. Always use your best judgment when giving your pet any form of clothing, toys or other products to keep your pet safe and healthy!