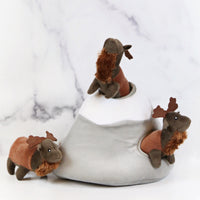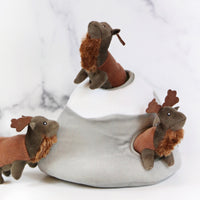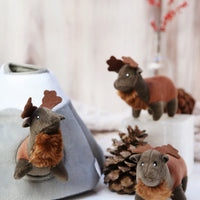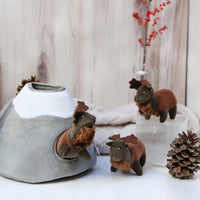 For a wildly entertaining time, put the trio of squeaky little elk inside the Zippy Burrow Elk Mountain and watch as your pup works to dig them out. Once your playful pup has them all out, they'll be begging you to put them back in again and again for hours of fun. It's the perfect interactive toy for keeping your dog busily engaged in hide-and-seek play that prevents boredom and promotes mental stimulation.

This interactive hide-and-seek toy comes with 1 mountain and 3 small squeaky elk.
Squeaker:

1 round squeaker in each elk

Burrow size:

10 x 9 x 7 in
SAFETY NOTE:

Do not leave your pet unattended with this product. We are NOT responsible for any damages/illnesses to products or pet that may happen to your pet or product due to a pet chewing/eating/scratching/getting injured by the product while not attended. We recommend that you remove clothing items durning rough play time, sleeping, or when leaving your pup home alone. Always use your best judgment when giving your pet any form of clothing, toys or other products to keep your pet safe and healthy!